Hey everyone! First off I want to say I'm sorry for kind of disappearing for the past few days. I started school two weeks ago and have been pretty overwhelmed with getting settled into my classes and adjusting to having, like, actual responsibilities again.
https://giphy.com/embed/3o6ZsWCJf86wyTUeCAvia GIPHY
*an actual representation of me and my life right now.
Plus I've been feeling weirdly slumpy, and haven't even read for over a week! But then I listened to this song today and it forced my to start rereading Six of Crows. Clearly my hands were tied. But I'm feeling less slumpy now, so hopefully I can start reading again!
ANYway, I feel like I'm (slowly) adjusting, so hopefully I'll be able to catch up on blogging+replying to comments + commenting on your guys' posts. I've been reading them! I just haven't had the time to comment…
I also think I might have to drop to just posting twice a week instead of three times, but we'll see. It will probably end up being book reviews on Sunday + discussions/whatever on Tuesday. (I mean, after today, obviously.) 
Ooh!! Also! Thank you for your kind comments on my last post about my WIP!! Reading them seriously made like my month. It's been a rough few weeks, and that really helped me, you don't even know.
Anyway! Today I'll be reviewing some of my favorite Kasie West books. Kasie West writes cute, contemporary romances, and she is actually one of my favorite authors, and I've read most of her books at least twice. I don't even like contemporary that much! Just for some reason, these books make me sooo happpy and I cannot seem to get enough of them.
Here's a short list of my favorite things about the Kasie West books:
It's obvious that the boy likes the girl and the girl likes the boy BUT THEY CAN'T FIGURE IT OUT ARGGHHEARHG. It makes things quite dramatic and torturous for me reading and I LOVE it.
The books are all so simple and just light and happy, and sometimes it's nice to read something that just makes you feel good.
The romances are so adorable asdf;ljksaf I can't even.
Oh, p.s., I rated these all four stars so will leave off a rating to simplify things.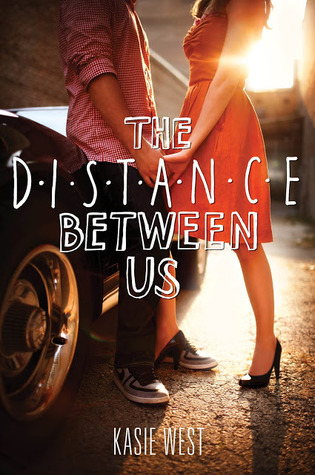 The Distance Between Us 
What I liked:
The complicated mother/daughter relationship that ENDS HAPPILY.
The expert exploration of rich vs. poor.
Xander Spence's smile <3<3
Caymen's dry humor, because GIRL. I understand you. I'm so dry. It's almost like I'm trying to be funny.
The fact that Xander always takes one sip out of Caymen's hot chocolate.
What I didn't like so much: 
Caymen's friends? There not like, jerks or anything, i just thought they had weird names…
The Fill-In Boyfriend
What I liked: 
This is my favorite Kasie West book!
The complicated + awesomely developed relationship between Gia and her family.
Gia's relationship with all her friends. They all grow so much and so does their friendship.
The fact that Gia literally drags Hayden out of his car so he'll be her date.
It's set in California and there are lots of beaches and I'm jealous.
THe ROMANCe!!
Gia is slowly digging herself into this pit of horror and awful embarrassment and OH the AGONY. I'm just glad I don't actually have to live through that. Or see it in real life, because I would probably die.
What I didn't like: 
The drama between Gia and her brother was a little petty, but oh well…
On the Fence 
What I liked: 
The big crazy family dynamics. (Though, I'm not sure that it's really that big. But I do have six younger siblings, so maybe I've been desensitized to big, crazy families.)
Throughout the book, Charlie grows so much!! She learns that there are lots of ways to be a girl, that she doesn't have to have one thing that defines her.
The two million awkward love triangles. It gets QUITE intense, guys.
The childhood friends-to-more than friends trope. GAH.
What I didn't like: 
The cover. Blech. I don't like it. It does not match all the others and it is awkward, and for some reason it makes me uncomfortable.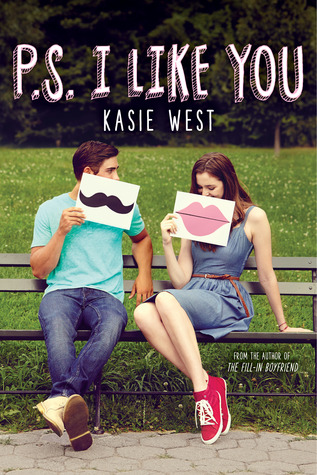 P.S. I Like You
What I liked: 
This is actually my favorite Kasie West, I think. I CAN'T DECIDE.
The hate-to-love trope because it is my FAVORITE contemporary trope. I don't even know why.
The fact that Cade is a sad tragic cinnnamon roll of a character and I just want to give him a hug.
Lily is so bad at coming up with comebacks. I relate to it on a spiritual level.
That guy on the cover is really attractive, I'm not going to lie.
I like EVERYTHING. It is perfect perfection.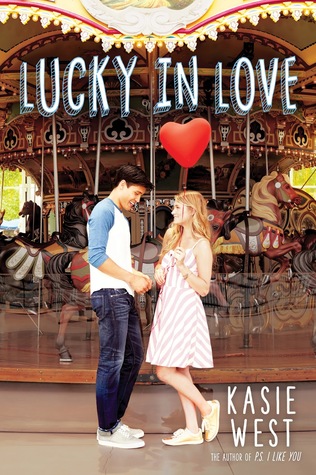 Lucky in Love 
What I liked: 
Maddie's realizations about family relationships + how some things just have to work out.
The friends.
THE ROMANCE.
The COVER. It's adorable.
What I didn't like: 
The plot kind of drove me insane. HOW can ONE PERSON be SO STUPID. Maddie wins the lottery, and her money-spending choices drive me CRAZY.
Plus I'm a little salty that I didn't get the money instead. 10/10 would have dropped everything and traveled the world.
Have you read any Kasie West books? Do you ever read cutesey romances? What would you do if you won the lottery?