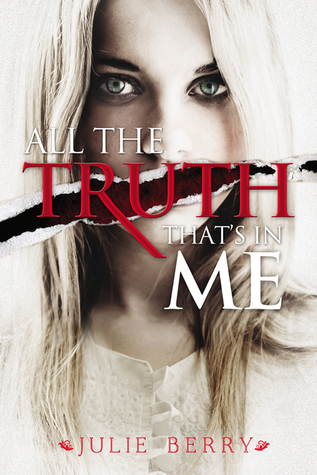 All The Truth That's in Me by Julie Berry

Rating: 4.5 Stars

Release Date: September 26, 2013

Genre: YA Historical Fiction

Four years ago, Judith and her best friend disappeared from their small town of Roswell Station. Two years ago, only Judith returned, permanently mutilated, reviled and ignored by those who were once her friends and family.

Unable to speak, Judith lives like a ghost in her own home, silently pouring out her thoughts to the boy who's owned her heart as long as she can remember—even if he doesn't know it—her childhood friend, Lucas.

But when Roswell Station is attacked, long-buried secrets come to light, and Judith is forced to choose: continue to live in silence, or recover her voice, even if it means changing her world, and the lives around her, forever.
 You all know I just read and adored Julie Berry's The Passion of Dolssa. So of course I was super excited to read this one right away!!
All The Truth That's In Me is very different from Dolssa. The format is really unique; the book is told through Judith's perspective in a series of very short chapters that jump back and forth in time. And it's also told in second person past tense. I honestly wasn't sure how I'd feel about all of that, but I ended up loving it!! I felt like the narration style worked super well with the story and Judith's character. But, be aware that it can feel choppy at time, and if you hate second person tense this might not be for you.
I love, love, loved Judith. We really learn a lot about her throughout the book. Like I said, a lot of the book is told in flashbacks. Because of this style, we gradually learn about her motives and the way she's changed, and all of that information makes her choices and actions in the present so compelling. 
I also loved the romance. Mostly because I totally have a crush on Lucas!! I think I had hearts in my eyes every single time Judith talked about him. Which, since the book is literally speaking *to* him, was a lot. It was great xD. I thought their relationship developed in the most perfect way!! It was slow; it took so, so long to build (which is the best kind of romance in books, I think) and it was sometimes heartbreaking, and just ugghh there were so many emotions. Lucas has the best characterization.
I also thought it was great how all the characters had such clear motives. A lot of these motives were very twisted, from the kidnapper and the (almost) religious fanatics to the mother who shuns her child because of what has happened. I just thought they were so well thought out! Every character stood out, and I can still remember most of them even though it's been like two months since I read the book.
All The Truth That's In Me is technically pretty slow in terms of plot. but it's super addicting! I was sucked right into the story, and I could not wait to keep reading it. The whole story is pretty harrowing, actually, but I LOVE the way it works out!! I won't say too much about that because I'm too lazy to deal with spoiler tags, but Judith is awesome and the way the story builds up to a super awesome climax is awesome. That is all xD.
Julie Berry's writing is so beautiful. I just love her style: elegant and flowing without being too verbose. I don't actually know how to describe it xD. It's great. You should read one of her books and see for yourself.
The setting of the book was really interesting, too! I like how vague it was. The story is obviously set in the past, but we don't know exactly where, or exactly when. This might seem weird, but for some reason it really worked! It definitely made Judith's sense of being trapped a lot more real, and all the tension felt stronger. 
I honestly don't know why this book isn't more popular! I can't wait to read another book by Julie Berry. I'm just annoyed that she hasn't released another yet xD!
Have you read any of Julie Berry's books? How do you feel about second person tense? What is your least favorite kind of cover? (A truly important question, I know.)
---
Content Guide: There is some discussion as to whether or not Judith has had sex with her captor. (She hasn't.) It is not descriptive or discussed often. There might have been some occasional very minor profanity. There is some violence: Judith has her tongue cut out and some people are killed, but it is not explicit.