Because I'm super behind on reviews, I thought it'd be fun to do some mini reviews for some contemporary romances I've read lately!
Love and Gelato by Jenna Evans Welch
Rating: 4 Stars

Release Date: May 3, 2016

Lina is spending the summer in Tuscany, but she isn't in the mood for Italy's famous sunshine and fairy-tale landscape. She's only there because it was her mother's dying wish that she get to know her father. But what kind of father isn't around for sixteen years? All Lina wants to do is get back home.

But then she is given a journal that her mom had kept …(continue reading)
I'm not someone who loves YA contemporary, but occasionally I'll find something like this that's super cute and light and just so happy, and I accidentally love it.
What I Liked:
The setting:

Italy!! Gelato!! Florence! True, the whole thing was juuust a bit stereotyped, but in a harmless, sweet way. I loved the setting, and the way all the food and scenery was described was great.

The characters:

I mean, they weren't anything super memorable, but I liked them. I thought the romance was cute. The main character is sweet and entertaining to read about, and the love interest was very kind, which was great to see in YA. I also LOVED the relationship between Lina and her dad. It developed realistically and nicely.

The mood:

The whole book is just so happy. I mean, I'm all for dramatic, dark fantasy, but sometimes it's nice to take a break and just enjoy something that's so effortlessly uplifting and bright.
What I Didn't Like:
The predictability:

I figured out both plot twists right away, and the resolution was pretty obvious. But that really didn't distract from my enjoyment at all! It just made the whole mystery aspect of the story a tiny bit underwhelming.
Overall, Love and Gelato was uplifting and super fun, even though it was just the teensiest bit unoriginal .
I secretly love these covers xD.

To All the Boys I've Loved Before by Jenny HanRating: 4 Stars

Release Date: April 15, 2014

What if all the crushes you ever had found out how you felt about them… all at once?

Sixteen-year-old Lara Jean Song keeps her love letters in a hatbox her mother gave her. They aren't love letters that anyone else wrote for her; these are ones she's written. One for every boy she's ever loved—five in all …(continue reading)
What I Liked:
The characters:

Even though Lara Jean was *kind of* annoying at times, I thought she was cute and endearing, and I liked her narration. I also accidentally fell in love with Peter, and Kitty is adorable.

The romance:

I thought Peter's and Lara Jean's "hate-to-love" romance was fantastic!! Their banter was hilarious, and I loved how they made each other sign contracts to define the rules of their (almost) relationship.

The mood:

This is another very happy book. I like that.
What I Didn't Like:
The drama:

It didn't take over the plot, but there was a fair amount of petty mean-girl and boyfriend drama.
To All the Boys I've Loved Before is the definition of fluff. It's pure mindless entertainment, and I loved it.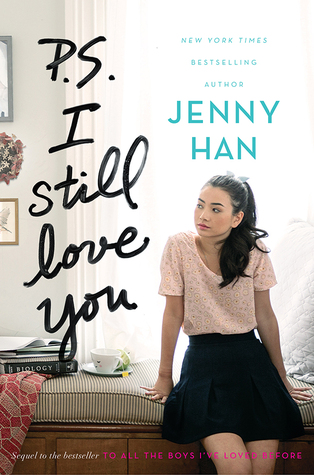 P.S. I Still Love You by Jenny Han

Rating: 2 Stars

Release Date: May 26, 2015

Lara Jean didn't expect to really fall for Peter.


She and Peter were just pretending. Except suddenly they weren't. Now Lara Jean is more confused than ever.
When another boy from her past returns to her life, Lara Jean's feelings for him return too. Can a girl be in love with two boys at once?

Well, you can be in love with two boys at once, but it gets annOYING.
What I Liked:
It's entertaining:

This is a book that doesn't take itself too seriously. It's just fun!

Kitty:

I LOVE Kitty. She is by FAR the best character in the series.
What I Didn't Like:
The other characters:

They're all so annOYING in this book. Lara Jean is immature and controlling, Peter is a two faced meanie, and the other characters just felt so flat in this book! What happened to the Peter I fell in love with from book one?? What happened to Lara Jean's endearing (if not occasionally whiny) personality?? And WHY is everyone so PETTY?? What happened??

All the DRAMA:

It was so over the top. Like I just screamed, everyone and everything was so PETTY. There were so many problems that could have been avoided if people could just, you know, not be jerks?
Overall, P.S. I Still Love You was a fun read, even if it was extremely frustrating at times. It definitely does not live up to the first book, and at this point I don't care enough to continue the series.
I Believe in a Thing Called Love by Maurene Goo

Rating: 3 Stars

Release Date:

Desi Lee believes anything is possible if you have a plan. That's how she became student body president. Varsity soccer star. And it's how she'll get into Stanford. But—she's never had a boyfriend. In fact, she's a disaster in romance, a clumsy, stammering humiliation magnet whose botched attempts at flirting have become legendary with her friends. So when the hottest human specimen to have ever lived walks into her life one day, Desi decides to tackle her flirting failures with the same zest she's applied to everything else in her life. She finds guidance in the Korean dramas …(continue reading)

What I Liked:
The characters:

They were all really developed! I LOVED Desi's personality. She is absolutely hilarious, and I loved how she is a know-it-all who rambles on about random facts all the time. I liked the friends, and all their conversations together.

Desi's escapades:

Okay, they were hilarious. Like when her pants fall down while she's flirting. Or all the awkward Luca-Desi situations she causes.
What I Didn't Like:
Desi's escapades:

Uh… yeah. While they were hilarious, some of the lengths she went to to get Luca's attention made me uncomfortable. There are certain lines you just shouldn't cross… and Desi crossed them. I cringed a LOT.
Overall, it was hilarious and entertaining, even if I did suffer from a lot of second-hand embarrassment.
Have you read any of these? If not, do you think you'd like to? Do you like mini-reviews or full-length reviews better?