So I've seen this Q&A floating around, and I don't know who made it, but yay to you!! It was super fun to do, and a perfect backup post while I attempt to get my busy life back together…
1. Best book I've read so far?
This is TOO HARD of a question, so I'll give the best book for each genre I've read.
Historical Fiction: The Passion of Dolssa by Julie Berry
Fantasy: Six of Crows by Leigh Bardugo (!!!)
Contemporary: Exit, Pursued by a Bear by E.K. Johnston
2. Best sequel I've read so far?
Pfft, I don't read sequels!! *cries* So I'm going to go with "Best second-book from an author you've read" which is The Cure for Dreaming by Cat Winters. So good!!
4. New release you haven't read yet but want to?
Our Dark Duet by Victoria Schwab!! I cannot WAIT to read it, but I'm waiting for my library to buy it so I don't have to. But they're taking foreeeever. 😥
4. Most anticipated release for second half of the year?
I can hardly SLEEP I'M SO EXCIIITEEED!!!
5. Biggest disappointment.
Probably Wintersong by S. Jae-Jones. It is so preeettty, and the premise was FANTASTIC and yet… crushing disappointment.
6. Biggest surprise.
Vassa in the Night by Sara Porter! It is SUPER WEIRD and I was worried I wouldn't like it for that reason, but I ended up kind of falling in love with it!
7. Favourite new (to me) author!
Cat Winters!! I am now obsessed with her books.
8. Newest fictional crush?
HAHAHA THERE ARE SOOO MANY. But I'm going to go with Gifford from My Lady Jane. He's so sweet and caring and funny, and also he is a horse. (Just go with it.)
9. Newest favourite character?
Kaz Brekker from Six of Crows. He's an anithero with a tortured past and he wears gloves and carries a cane and has great hair. I'm in love. He's also so cunning and ruthless, but there's more to him than meets the eye!!
10. Book that made me cry?
Tiger Lily by Jodi Lynn Anderson. It's such a good book, and very bittersweet.
11. Book that made me happy!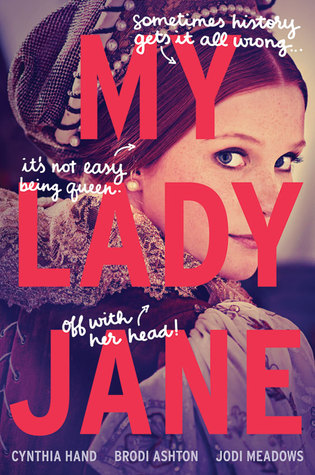 I loved it so much I read it twice this year! This book is just so whimsy and happy and hilarious, and I fell head-over-heels in love with it.
12. Most beautiful book I've bought this year?
Isn't it glorious?!? I bought this French edition while in Paris, and it now sits face out on my bookshelf where I can see it every day.
Now I just need this French Crooked Kingdom!
13. What book(s) do I need to read by the end of the year?!
HAHA. I honestly don't know. So I'm changing the question to: "What books do I want to reread this year?"
Keturah and Lord Death by Martine Leavitt
A Face Like Glass by Frances Hardinge
Cuckoo Song by Frances Hardinge
What has been the best book you've read so far this year? Do you collect foreign editions of books? If you did this tag, be sure to link to it so I can come check yours out!