Some people are normal, and cry when a book is sad.
Some people (a.k.a. me) are monsters and never cry over books. Actually, I cry all the time, but for some reason I rarely cry over books. In fact, I can count on one hand the number books and movies COMBINED that have made me cry.
Just in case you haven't been convinced of my evilness, I once burst into laughter when a book character died. True story. My sister can attest to this. I LAUGHED LOUDLY for five minutes.
FIVE MINUTES. And you wonder why I call myself a monster…
But sometimes I have emotions!! (Besides daydreaming. That is totally an emotion.) So I have compiled a list of books that have made me either 1) choke up and have that prickle-behind-your-eyes feeling or 2) actually, through some miraculous sorcery, summoned tears.
        Gullstruck Island by Frances Hardinge
No, I didn't actually cry, but I definitely felt emotional! And my nose and eyes felt weird, and I think that has something to do with potential tears?? Don't ask me, I have no experience.
Crooked Kingdom by Leigh Bardugo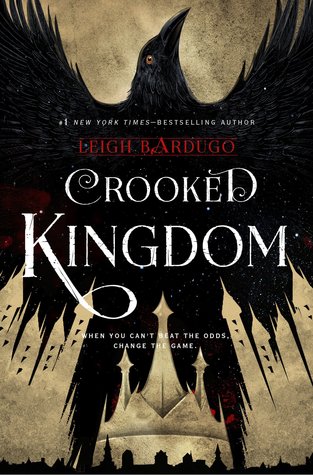 I got emotional, but again, no actual tears. AND NO, I did NOT almost cry at that ONE part when that ONE character DIED ( I was happy because it made for great plot development and even greater character development, and apparently I am more of a soulless monster than I thought. Ahem.)
Instead, I "cried" because I could no longer handle the sheer beauty of this world and my precious Kaz Brekker.

I also felt weepy when I first held this beautiful book in my hands.
Cuckoo Song by Frances Hardinge
Another tearless cry that TOTALLY counts as crying. Because I felt emotions. But they were sweet and tender emotions!!
A Face Like Glass by Frances Hardinge
I think I almost felt tears during this one?? Maybe?? It was close. SO close. But I came even closer when I saw this cover because DO YOU SEE THE LOVELY.
I really should read more Frances Hardinge. Clearly there's a pattern here.
      The Vanishing Season by Jodi Lynn Anderson
This is where the true feels come. And we're getting closer!! I felt wetness on my eyelashes. I THINK IT MIGHT HAVE BEEN AN ACTUAL TEAR.
Also, this book tore my heart out and stomped on it, so who needs tears anyway when you are too busy cursing this book whilst simultaneously praising the author's genius??
                       Keturah and Lord Death by Martine Leavitt
THERE WERE ACTUAL TEARS. REALLY. And this is one of the books I have read approximately ten times, and I think I cried the last two. So I'm making progress.
Plus, again with the heart-shredding!?!
Tiger Lily by Jodi Lynn Anderson
More actual tears!! Yay!! But really, this book is emotionally brutal. Why must Jodi Lynn Anderson torture me?!?
Also, when may I have more??
Heartless by Marissa Meyer
THIS is when things start getting serious. I read this book and not only did it TEAR my heart out, it proceeded to SHRED it into TINY LITTLE PIECES and STOMP ON IT FOR ALL ETERNITY.
Seriously.
I read this book, and when THAT ONE SCENE happened (*wails*) I had NO happiness due to plot/character development. Instead, I proceeded to start sobbing. Literally. I sobbed (as in tears running down my face and nose running and entire body shaking with the force of a thousand miserable earthquakes) for an hour.
                     Then I wept mournfully for another two.
                    I also didn't smile for a week so THAT is dedication.
         And yet, for some reason,  I'm impatient to read it again.
Are you a crier?? Do books/movies succeed in making you cry?? Or are you a mostly heartless monster like me who only has eight books on her made-me-(almost)-cry list??