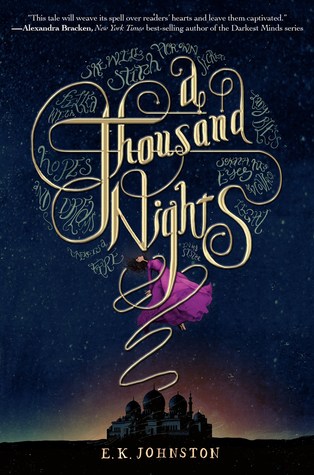 A Thousand Nights by E.K. Johnston

Rating: 4.5 Stars

If you listen long enough to the whispers, you will hear the truth. Until then, I will tell you this: the world is made safe by a woman. She bound the monster up and cast him out, and the man who was left was saved.
Well, I thought this was absolutely lovely.
A Thousand Nights is a re-imagining of the fairy tale 1001 Nights, or the Arabian Nights. The writing in this book is so enchanting and  has the feel of an ancient fairy tale, one that has been passed down through generations. Some might call the writing detached, disconnected, because technically, it is. But I loved it. It just added to the bewitching, fairy tale atmosphere of this story.
One thing that was difficult for me at first was the fact that none of the characters, save Lo-Melkhiin, have names. This grew on me and made me care for the characters even more, because I yearned to know them better, if that makes any sense. Plus, it adds to the old feeling mentioned above.
The worldbuilding is fantastic. Johnston paints a vivid, enchanting picture of this desert kingdom and the people and customs within. It grows slowly and gently and before you know it there is a whole world before your eyes.
Another thing I loved about A Thousand Nights is that the romance isn't really a romance. It might appear to be one, but it's really not. By the end there is only hope that The Storyteller Queen and the King would grow to love each other. There is a glimmer of light in what had once been darkness, and I really appreciated that. But really, this book is about courage and sacrifice and family, not the romance you think it will be about.
Good men fall to monsters every day.
I think that works so well because the narrator is so selfless. She is able to see the hope and the potential, and sacrifice for it. She puts her family and her people before herself. She's willing to sacrifice her life not only for her sister, but for people she's never met but that are a part of her desert. I want to be like her.
The other characters are somewhat difficult to connect to, but only because the narration is a little detached and of course they don't have names. I didn't mind though. They were real enough to me, especially our unnamed Storyteller Queen.
Watch your world burn, light of my heart. Tomorrow we will find another one and burn that too.
Also, it makes me really sad that this book will forever be compared to The Wrath and the Dawn because they are so. different. They are not comparable at all. I can't even say which is better; they are that different. The Wrath is definitely a retelling of 1001 Nights while A Thousand Nights is better described as a re-imagining.
A Thousand Nights is like nothing I've ever read before. I can honestly say it will not work for everyone because of some of its unique elements, but I absolutely loved it and I can't wait to enter this enchanting world again.
---
Summary – A Thousand Nights by E.K. Johnston

Lo-Melkhiin killed three hundred girls before he came to her village, looking for a wife. When she sees the dust cloud on the horizon, she knows he has arrived. She knows he will want the loveliest girl: her sister. She vows she will not let her be next.

And so she is taken in her sister's place, and she believes death will soon follow. Lo-Melkhiin's court is a dangerous palace filled with pretty things: intricate statues with wretched eyes, exquisite threads to weave the most beautiful garments. She sees everything as if for the last time. But the first sun rises and sets, and she is not dead. Night after night, Lo-Melkhiin comes to her and listens to the stories she tells, and day after day she is awoken by the sunrise. Exploring the palace, she begins to unlock years of fear that have tormented and silenced a kingdom. Lo-Melkhiin was not always a cruel ruler. Something went wrong.

Far away, in their village, her sister is mourning. Through her pain, she calls upon the desert winds, conjuring a subtle unseen magic, and something besides death stirs the air.

Back at the palace, the words she speaks to Lo-Melkhiin every night are given a strange life of their own. Little things, at first: a dress from home, a vision of her sister. With each tale she spins, her power grows. Soon she dreams of bigger, more terrible magic: power enough to save a king, if she can put an end to the rule of a monster.
4.5 Stars. There was no language/sex but the MC's father has two wives because of the ancient desert culture the book is set it, so that is something to keep in mind.