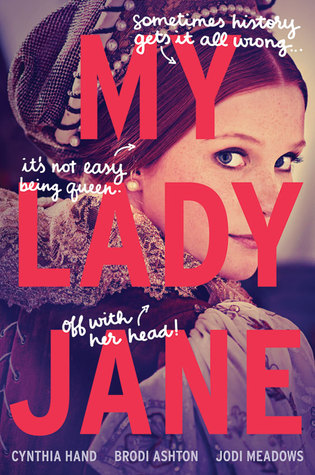 THIS WAS SO MUCH FUN!!! Oh my goodness!!! Something about the whimsy, silly cute cover called to me and I bought it on a whim and I have never felt more blessed.
"No horse jokes," he said.
"My lord, I apologize for the horse joke. If you put down the book—unharmed!—I will give you a carrot."
He brandished the book at her. "Was that a horse joke?"
"Neigh."
"Was that a horse joke?"
The thing about My Lady Jane is that it's so deliciously light and silly and so much fun. It's impossible to take seriously and that's the best part about it. And I've never laughed so hard while reading a book before. There's no substance, really, but it makes me sooo happy.
I love all of Jane's books. I can't remember all the names, but my favorite was something like "Herbs and Plants: Navigating Middleage England on a Budget."  I don't know. They were hilarious. And all the characters are so funny! And so sweet and I love them so much!
Anyway. That's all I'll say. And My Lady Jane has earned a beloved spot on my favorites list.
"I know I'm not inspiring much confidence at this point, but there's something else I thought I'd bring up." She lifted her eyes to him. "I love you more than I love books."
Jane and her books. I understand you Jane!!!
Synopsis – My Lady Jane by Cynthia Hand/Jodi Meadows/Brodi Ashton

The comical, fantastical, romantical, (not) entirely true story of Lady Jane Grey. In My Lady Jane, coauthors Cynthia Hand, Brodi Ashton, and Jodi Meadows have created a one-of-a-kind fantasy in the tradition of The Princess Bride, featuring a reluctant king, an even more reluctant queen, a noble steed, and only a passing resemblance to actual history—because sometimes history needs a little help.

At sixteen, Lady Jane Grey is about to be married off to a stranger and caught up in a conspiracy to rob her cousin, King Edward, of his throne. But those trifling problems aren't for Jane to worry about. Jane is about to become the Queen of England.
5 Stars. There's some "bible" swearing and we're told the MC's sleep together after they're married, but all we see is a kiss.