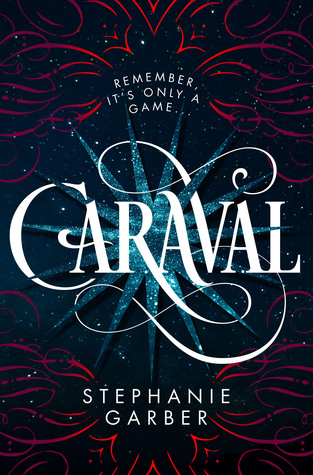 I am speechless! This was everything I hoped for and more. I don't even know how to say anything about it, it was so wonderful and unique and magical… but I'll try.
The writing is beautiful. It's so pretty and visual and I could see and feel  everything that is Caraval.
And I think it's because of that writing that I was completely immersed in and enchanted by this magnificent game. While I was reading, I couldn't tell what was real. I was just as lost and confused and unsure of myself as Scarlett. In fact, there were several times I completely forgot it was just a game. Isn't that what we're told not to do? And yet Garber's writing is so captivating that I could not tell what was real and what was a trick, part of this enigma that is the game of Caraval. And believe me, you will too, no matter how hard you try not to. So when the ending came, I was shocked and it wasn't until then that I realized I had been tricked. Looking back, I still am not completely sure what was real and what was just an illusion…
The characters weren't developed very well, but I didn't even care (I NEVER thought I'd say that) because everything else about Caraval was so much fun. There were a couple times I wanted to slap Scarlett with her stupid dresses. But I liked her anyway. Anyway. I really liked Scarlett and Tella (the next book is TOTALLY going to be from her POV) and Julian was wonderful. Or was he? *Evil chuckle.* And Legend. I totally spotted him. There was just an instant where maybe he was there…anyway, I can't wait to see more of him in the next book. And  I liked these characters, even though I guess they're not technically worth five stars, and maybe Caraval isn't really technically worth five stars, but who cares. It was so much fun and I loved it.
Now I just need to exercise some self control and not read it again too soon.
Synopsis – Caraval by Stephanie Garber

Scarlett has never left the tiny island where she and her beloved sister, Tella, live with their powerful, and cruel, father. Now Scarlett's father has arranged a marriage for her, and Scarlett thinks her dreams of seeing Caraval, the far-away, once-a-year performance where the audience participates in the show, are over.

But this year, Scarlett's long-dreamt of invitation finally arrives. With the help of a mysterious sailor, Tella whisks Scarlett away to the show. Only, as soon as they arrive, Tella is kidnapped by Caraval's mastermind organizer, Legend. It turns out that this season's Caraval revolves around Tella, and whoever finds her first is the winner.

Scarlett has been told that everything that happens during Caraval is only an elaborate performance. But she nevertheless becomes enmeshed in a game of love, heartbreak, and magic with the other players in the game. And whether Caraval is real or not, she must find Tella before the five nights of the game are over, a dangerous domino effect of consequences is set off, and her sister disappears forever.
5 STars. No swearing, and nothing more than a few passionate kisses.